Please use these resources as a guide to teach, share, learn and speak about mental health.
Douglas County Youth Substance Abuse Prevention Coalition
http://www.dougcoprevention.org/
The Douglas County Youth Substance Abuse Prevention Coalition created this website to empower young people in our community to make good choices for their health and well-being. We hope by doing so we can prevent or reduce substance abuse amongst our teens and young adults.
Make It Ok
http://makeitok.org/
This award-winning project was originally funded by the Red Wing Shoe Company, and discusses how to encourage honest conversations about mental health without the shame or exclusion that often occur when individuals want to broach the subject.
Man Therapy
https://mantherapy.org/
Part of a multi-agency effort, including the Colorado Office of Suicide Prevention and the Carson J Spencer Foundation, Man Therapy is giving men a resource they desperately need. A resource to help them with any problem that life sends their way, something to set them straight on the realities of suicide and mental health, and in the end, a tool to help put a stop to the suicide deaths of so many of our men.
Pregnancy-Related Depression
https://www.colorado.gov/pacific/cdphe/pregnancy-related-depression/
Pregnancy-related depression is depression that occurs during pregnancy or after giving birth, including after a pregnancy loss. In Colorado, nearly 1 in 9 women who give birth will experience signs and symptoms of depression. This makes depression the most common complication of pregnancy. Find out if you are at risk, and find resources here.
Early Childhood Colorado Partnership (ECCP)
http://eccp.civiccanopy.org/message-platform/
In 2015, the Early Childhood Colorado Partnership (ECCP) convened more than 25 stakeholders to develop Colorado's Early Childhood Shared Message Bank. This bank provides messaging for early childhood stakeholders to use across the state to speak from a collective voice, engage more audiences and mobilize action to address early adversity and toxic stress in children. Partners across the state are using these resources to leverage their work with consistent messaging when discussing early childhood development, adversity, and toxic stress to keep shifting social norms toward positive social change for family and child well-being in Colorado. The Message Bank also includes examples of materials other partners have used.
Speak Now
https://www.speaknowcolorado.org/
In Spanish
http://www.hableahoracolorado.org/
Speak Now is an effort of the Colorado Department of Human Services, Office of Behavioral Health, focused on providing evidence-based information and resources to parents and caregivers regarding youth substance abuse prevention in Colorado. Speak Now addresses the use of alcohol and marijuana, and the misuse of prescription drugs and other drugs among Colorado's youth. It's an educational resource for parents and caregivers on how to start conversations and keep them going about the risks of alcohol, marijuana, prescription drugs and other drugs among youth.
Colorado Mental Wellness Network
http://www.coloradomentalwellnessnetwork.org/
Through education and advocacy, the Network seeks to provide opportunities for individuals to improve the quality of their lives, give back to the community through meaningful roles, and to change the perceptions of mental health.
Mental Health Colorado
http://www.mentalhealthcolorado.org/
Mental Health Colorado is the state's leading advocate for the prevention, diagnosis, and treatment of mental health and substance use disorders. We are a nonprofit, nonpartisan organization and an affiliate of Mental Health America.
Colorado Crisis Services
http://coloradocrisisservices.org/
If you don't know where to begin getting mental health, substance use or emotional help for yourself or someone you know—start here. We provide confidential and immediate support, 24/7/365. If you are in crisis or need help dealing with one, call this toll-free number 1-844-493-TALK (8255) or text TALK to 38255 to speak to a trained professional.
Our walk-in crisis services are open 24/7, and offer confidential, in-person crisis support, information and referrals to anyone in need. View the map on our website to find walk-in crisis services near you.
Kaiser Permanente
https://share.kaiserpermanente.org/article/find-your-words-to-fight-stigma-around-depression/
Kaiser Permanente is committed to eliminating barriers to talking about mental health and is teaming up with organizations including the National Alliance on Mental Illness, National Suicide Prevention Lifeline, Crisis Text Line and Mental Health America to change the conversation around mental health. The public health awareness effort, "Find Your Words," focuses on mental health and wellness with spots for TV, theater, digital and radio featuring lyrics that talk about depression in an honest and inspiring way.
Mental Health First Aid Colorado
http://www.mhfaco.org/
Mental Health First Aid Colorado promotes and supports mental health education and wellness for Coloradans. In a Mental Health First Aid course, you will learn signs and symptoms of a mental health challenge or crisis, what to do in an emergency, and where to get help.
NAMI Colorado
http://www.namicolorado.org/
NAMI Colorado is located in Metro Denver. We serve an extended community throughout the State of Colorado. Our staff is experienced in helping get you the information and in touch with the right contacts. Our focus is to connect, educate, and support the mental health issues and needs of today. NAMI Colorado has 15 local affiliate organizations across the state.
Early Childhood Partnership of Adams County (ECPAC)
https://www.ecpac.org/project-launch/
Funded by the Substance Abuse Mental Health Service Administration (SAMHSA) to the Colorado Department of Human Services (CDHS) in partnership with the Colorado Department of Public Health and Environment (CDPHE) and the Early Childhood Partnership of Adams County (ECPAC)
Project LAUNCH has the following objectives through promoting a holistic perspective, foster an ecological framework, and employ a public health approach:
Improve coordination and collaboration across the systems that serve young children and their families
Provide greater access to high-quality care and evidence-based programs for young children and their families
Raise awareness and increase knowledge about young child wellness through public education and workforce development activities
National Alliance on Mental Illness/Arapahoe and Douglas Counties
http://www.namiadco.org/
NAMI Arapahoe/Douglas Counties is a local Colorado affiliate of the National Alliance on Mental Illness (NAMI). Our mission at NAMI Arapahoe/Douglas Counties is to provide education, support, and advocacy for people whose lives are impacted by mental health challenges. We are here to help families and individuals with their mental health goals including support and recovery.
NAMI works to achieve equitable services and treatment for more than 15 million Americans living with severe mental health challenges and their families. Hundreds of thousands of volunteers participate in more than 1,000 local affiliates and 50 state organizations to provide mental health education and support, increase understanding, support increased funding for research, and advocate for adequate health insurance, housing, rehabilitation, and jobs for people experiencing mental health challenges..
Porter Adventist Hospital (Centura Health): Support, Therapy and Treatment
Behavioral Health Services at Porter Adventist Hospital offer an array of comprehensive treatment services ranging from outpatient therapy and psychiatric medication management to Electro-convulsive Therapy and acute hospitalization.
Behavioral Health Services provides confidential, compassionate and professional care tailored to individual needs.
Some of the behavioral health programs offered at Porter Adventist Hospital include:
The Centre for Behavioral Health offers outpatient services that include psychiatric medication management, outpatient therapy and programs
Chemical Dependency Intensive Outpatient Program (CD-IOP) providing comprehensive treatment for individuals presenting with a pattern of substance abuse or dependency
Dialectical Behavior Therapy (DBT) groups that offer cognitive-based, highly-structured group therapy
Mental Health Intensive Outpatient Programs (IOP) designed for individuals stepping down from inpatient treatment or those assessed as needing a higher level of treatment services than outpatient counseling
Electroconvulsive Therapy Services offering expert inpatient and outpatient electro-stimulus therapy
Adult Inpatient Hospitalization for those with severe behavioral health problems
Geriatric Inpatient Hospitalization providing compassionate care for people ages 65 and older
For more information: http://www.porterhospital.org/WorkArea/DownloadAsset.aspx?id=6257
CeDAR
www.cedarcolorado.org
CeDAR is The Center for Dependency, Addiction and Rehabilitation. Founded in November, 2005, CeDAR is a premier substance use and co-occurring disorders provider of residential and outpatient treatment uniquely integrated into the University of Colorado Hospital, a nationally recognized academic medical center affiliated with the University of Colorado School of Medicine. This partnership allows CeDAR to develop, implement and continually advance a highly specialized, multi-disciplinary treatment approach.
CeDAR provides a full continuum of care including:
Intensive, medically managed detoxification and stabilization
Intensive Residential
Extended Residential
Day Treatment
Intensive Outpatient Treatment
Outpatient Counseling
Addiction Psychiatry
Integrated Addiction Medicine and Primary Care
Recovery Management and Support Services
Highlands Behavioral Health
http://www.highlandsbhs.com
Highlands Behavioral Health System is an 86-bed freestanding behavioral health hospital offering psychiatric care for adults and adolescents ages 11 and older. Centrally located in Littleton, the facility is easily accessible to families throughout the Front Range. The facility is open for admission 7 days per week, 24 hours per day. Mental health level of care assessments are provided free of charge. Walk-ins are welcome, however scheduled appointments are preferred.
Clinical services are delivered by qualified mental health professionals and each patient is given a comprehensive evaluation as part of the admission process. Once a patient is admitted to Highlands Behavioral Health System, an interdisciplinary team creates an individualized treatment program that includes acute care treatment, solution-focused treatment, and comprehensive discharge planning
Hunger Free Colorado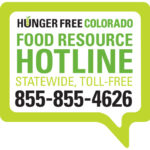 https://HungerFreeColorado.org
Hunger Free Colorado operates a statewide Hunger Free Hotline that connects Coloradans of all ages, backgrounds and zip codes to needed food resources, such as food stamps, food pantries and meal sites. All calls are free, confidential and tailored to their needs and location. The nonprofit organization currently has an established referral system with several hospitals and medical clinics, which can be expanded to support those seeking or receiving mental/behavioral health care.
By fostering collaboration and employing innovative solutions, we can reduce barriers, better support those in need of resources, and further promote overall well-being and health for all Coloradans. To learn more about partnership opportunities, call (720) 328-1284 or email [email protected].
Sharing Stories
https://sharingstoriescolorado.com/
Sharing Stories, a project developed by the nonprofit Stories Without Borders, works to normalize seeking mental health treatment and reduce the time between when people begin to experience mental health symptoms and when they access care.
Stories Without Borders (SWB) received a Special Projects Program Grant from The Colorado Health Foundation to support Sharing Stories. These stories are available as free communication tools - available to any person, teacher, organization or advocate that wish to use them to start new conversations about our mental health.
Spark the Change
https://www.sparkthechangecolorado.org/
Spark the Change Colorado, formerly Metro Volunteers, is a leading resource, strategist and partner that inspires, engages, mobilizes and empowers individuals, communities and organizations to become a driving force for good through the power of volunteerism, service and engagement.
Parents Thrive Colorado
https://parentsthrive.org/
Parents Thrive supports the mental health and wellbeing of pregnant and postpartum people by connecting them with relevant resources.